What is Manuka Honey?
This rare and special New Zealand honey is made from the nectar of the native Manuka plant (Leptospermum scoparium), which our clever bees collect and transform into Manuka honey, highly valued for its rare and complex properties. It is the nectar of the New Zealand Manuka flower that contributes the unique natural ingredients to Manuka honey that make it so different to other honeys.


The Magical Manuka Tree
The native Manuka tree (Leptospermum scoparium) is uniquely adapted to thrive in New Zealand's challenging natural environment. Hardy and resilient, Manuka acts as a natural protector and regenerator of the land.  Manuka has a long history as a respected medicinal plant, traditionally used by the New Zealand Maori people as a remedy. Manuka honey's special qualities come from the Manuka flower nectar, which contributes unique natural compounds that make Manuka Honey so different from other honeys. 

Manuka honey is rare – it is only made in New Zealand, and can only be made for a few weeks a year when the Manuka plant is in flower. 
As spring turns to summer and the weather warms, the increasing temperatures cause the Manuka plants in the far north of New Zealand to begin producing flowers. As the warm weather spreads down the country, so the Manuka blooms follow. There are around 25 days from the first sign of a flower bud to a stage 5 flower which no longer produces nectar. That doesn't leave a lot of time for our beekeepers to move and place their beehives, and for the bees to gather the nectar! During the season our beekeepers often work tirelessly around the clock, even using helicopters to move beehives to challenging, remote locations. 
Weather conditions have to be just right for the bees to make Manuka honey – strong winds will blow the Manuka flowers from the plants, while rain keeps the bees from venturing outside of their hives. The amount of honey produced by a beehive, and the overall honey production each season, can vary greatly depending on weather conditions and how much nectar is produced by the plants. 
The required alignment of particular conditions in nature as well as good planning and fast action from our beekeepers are key factors in making this honey so rare and costly.

MGO Manuka Power
MGO stands for methylglyoxal, the naturally occurring compound that makes M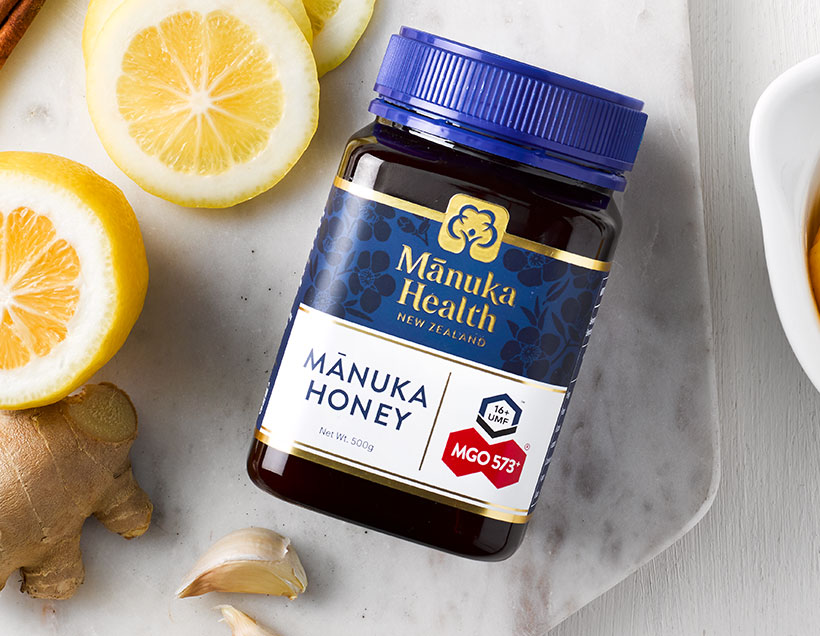 anuka honey so special. Our research partner – Professor Thomas Henle (University of Dresden) and his team – discovered MGO as the magic ingredient in Manuka honey, a discovery long sought after in the science world. In 2008 Manuka Health pioneered MGO testing as a more precise and reliable method of grading Manuka honey, based on this ground-breaking research. Not all Manuka honey is created equal and MGO levels can vary greatly.  Every jar of Manuka Health MGO Manuka Honey is tested and certified for natural MGO content. The MGO number tells you how much MGO is in your jar of honey – simple.
As part of beautiful new packaging design, we are adding elements to reassure our customers on authenticity, potency & purity.  Manuka Health now proudly carries both the MGO and UMF rating systems – we believe using both MGO and UMF on our labels offers the customer the ultimate in transparency and reassurance of quality and origin. Our iconic red MGO double hex mark gives the exact content of MGO in each jar (an indicator of its potency and power) and the UMF mark gives an added endorsement authenticating New Zealand origin. Combined, these trusted symbols solidify Manuka Health's position as a trusted expert in Manuka honey. With the rollout of our premium new packaging we have also optimized the potency of our flagship MGO range. Our MGO 100+ will increase in natural MGO content to 115+ our 250+ to 263+ and our 550+ to 573+. This means even more MGO Manuka power in every spoonful. See table across for a guide to our new MGO ratings with the corresponding UMF grade.